TED's Suggestive Social Network
TED's Suggestive Social Network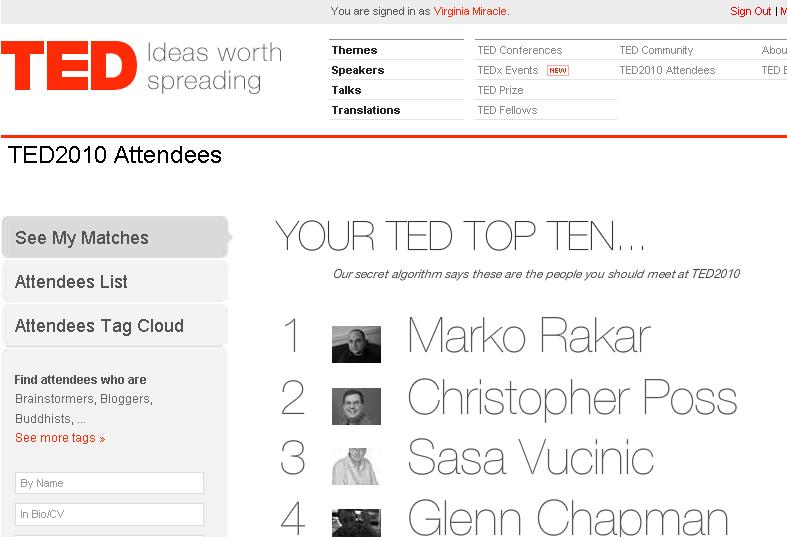 In 10 days, I am attending my very first TED.  As if I were not already excited, they have just released a new feature on their website that uses a "secret algorithm" to provide attendees with a Top 10 list of matches of attendees you should connect with.
In general, the thought of another "social network", another login and password, or another place on the internet to have to go and do things stresses me out.  This is different – the specificity of the information and the mystery algorithm's potential to find someone with who I am intellectually sympatico turned me into an instant addict. It's less MySpace and more of a nerdy, bleeding heart, semi-celebrity eHarmony. I have already exchanged emails with one of my "matches".
The timing of this is genius – I am looking forward to this year's event even more and feel like I already have an agenda of kindred spirits to meet. Simultaneously, they have opened registration for next year's TED 2011. So, lessons?
– TED is the master of optimizing the full year – not just an event, but the lead up to and the follow up after. Each is a moment for meaningful engagement
– Amazon-like connection suggestions – By collecting so much information from me, TED was able to offer me truly tailored "matches". Many events offer you a list of who is attending and offer you the chance to make a connection, but this is the first time that I've had a truly relevant list presented to me.
– Facilitate Sparking Personal Relationships – Beyond the phenomenal lineup of speakers, the appeal of the event is belonging to the community of "TEDsters" and there's no better way to integrate a new member than to empower them to start Day 1 with live connections.