I came, I SWOM, I learned something
I came, I SWOM, I learned something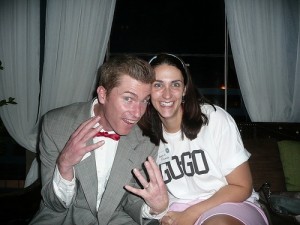 SWOMFest was a blast from the 80's themed preparty to Thriller dance recreation kickoff to the final case workshop.   Because of the extremely varied crowd that included authors, practitioners, and WOM newbies, my guess is that SWOMFest was a bit like a rorschach test with everyone taking away a little something different.
That being said, what follows are my takeaways from the event:
Six Sigma is the enemy of Word of Mouth. In Ben McConnell's surprisingly practical kickoff presentation, he framed the reality that Word of Mouth is generated by radical value propositions – not incremental ones. Citing Zappos radical value proposition of removing any risk from purchasing shoes online, he noted that 10% cleaner, 50% faster, 20% cheaper, etc are value propositions that will never drive organic discussion or advocacy. For example, if someone were to now offer free OVERNIGHT shipping both ways on shoes instead of just free shipping, that incremental improvement would not be likely to drive a lot of WOM or out-Zappos Zappos. He did caveat that for manufacturing and surgery, Six Sigma is still a very important concept.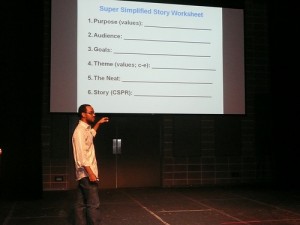 Storytelling may be the hardest element of WOM to master – I have to give screenwriter Yaphet Smith the prize for the best mindbending presentation of the day. I wasn't sure why he would be on the agenda at such event, but he captivated newbies and crusty WOM pundits alike and challenged them to think about their stories in a structured way, while remembering that "seeking the Neat" is a part of that structure.
Even Credit Unions can be interesting. If you don't believe me, check out TDECU's Young & Free Texas competition here or Trey Reeme ongoing battle to Thwart Mediocrity.
WOM is in the small stuff. The setting (the Long Center in Austin, TX), the events, the food, the swag, the music (DJ Mel), and the audience were as important as the speakers. Some of my most interesting conversations was with a marketer whose mission is to bring young adults back to the catholic church.  Very different from my day to day work, but a fascinating challenge.
Everyone in Word of Mouth Marketing loves sharing ideas with entrepreneurs. I was a little grumpy at the idea of a case study breakout – sometimes they are frighteningly painful.  This one was amazing. The entrepreneur in question, Jacob Boone of local organic smoothie/frozen yogurt trailer Mamboberry, benefited from the enthusiasm of the crowd for his business.  Blue Avocado also traded their stylish, collapsible sustainable grocery bags for WOM ideas and a lot of Austin style love.
Click here for the rest of my pics from SWOMfest
Click here for all pics from SWOMfest
Click here for all of the Twitter coverage of the event