3 Lessons from 3 Months of Prepping to interview Michelle Obama
3 Lessons from 3 Months of Prepping to interview Michelle Obama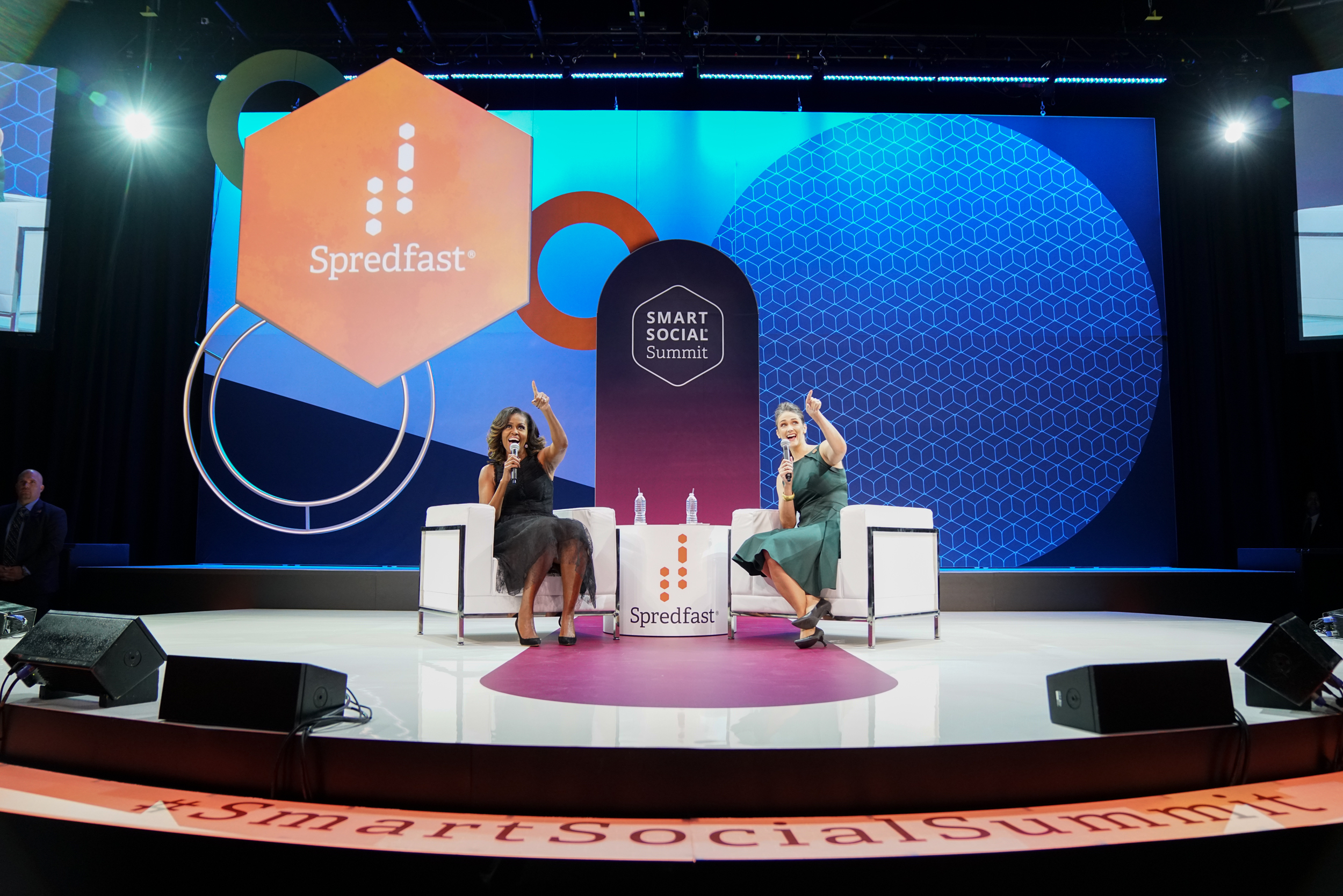 2017's professional highlight without a doubt was interviewing former FLOTUS Michelle Obama on stage for the Spredfast Summit in October. Before we go further, the answer to your first two questions are: "Yes, she's as amazing and warm and brilliant as she seems" and "No, I was not freaking out, I was extremely honored."
While I learned a lot from Mrs. Obama during the interview (some takeaways here and here), the process of preparing for the day itself was rich with lessons. These are heavily informing my 2018 personal goals and I'm sharing in case they might help others as well.
Review the Game Film – The Spredfast Marketing team who pulled off the coup of securing Mrs. Obama in the first place started me on a steady diet of looking at available previous interviews with Mrs. Obama to critique and second guess everything from editing to question flow. The major challenge is that much of what is available are other celebrities conducting the interviews. While everyone is interested in the FFLOTUS and Oprah comparing notes, I was well aware that the audience was there to hear from her, not me, so I needed to take a slightly different tack.
Preparation sets the table for Serendipity – I ritualistically prepare for keynote presentations by building muscle memory. The better I know the material, the more I can be present in the moment to connect with the audience and perform on the day. While I have done a number of onstage fireside chats previously, I have never actually acted out rehearsals or done technical practices – those I prepped by "warming up" the interview subject in prep calls which was not on the table here. Thus, we needed to rehearse with surrogates. I'm not going to lie, I felt a little (ok, VERY) silly at first. However, knowing that I could juggle interview cards and a handheld mic and had practiced the questions over and over meant that I had more mental bandwidth in a very adrenaline fueled moment to try to actually LISTEN and simply guide the course of the conversation. My favorite moment of that hour was riffing with Mrs. Obama about her comments about making sure to review tweets – a moment only made possible because I wasn't obsessively trying to remember or get to the next question.
Leadership is Everywhere –  Mrs. Obama was amazing, but truthfully, I learned a something from everyone who stepped in to help me practice and polish – including WPEngine's CEO Heather Brunner and my own husband who got dragged into the prep process in the final week. Turns out, I don't turn to the man I walk through life with and ask him hard questions about leadership every day, but he's pretty wise. While its amazing to be able to ask the former First Lady serious questions about how social media has changed the electorate, what it will take to get the next generation into politics, and how to tell a story through a team, we have leaders in our midst whose perspective is similarly valuable. We should be asking hard questions of everyone.
As I think forward to 2018, I am spending a lot of time reviewing the ups and downs of 2017 – not what happened, but how I reacted and chose to act, to speak, to prioritize, to spend my time and to behave. This year my goals center on being more thoughtful about how I spend my time. I wish to spend more time proactively investing in myself, my children and my community and far less of it in my comfort zone of reacting to incoming items. And I do want to spend more of my time with my remarkable friends, colleagues and my spouse discussing about things that will make a difference in the world or right here in Austin, TX.