Where's your brand AT?
Where's your brand AT?
I am a huge, dorky, proud Bruce Hornsby fan.  You may say "as in THE RANGE?" and I will just sniff and bore you with Bruce's phenomenal career milestones since the Range went to pasture nearly 20 years ago.  I had plans to go see Bruce a few weeks ago, but the show was canceled due to Hurricane Hanna.  While checking his site yesterday in hopes of identifying another date I can make this year, I found this: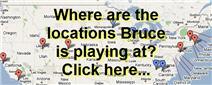 I'm sorry – what?  "WHERE ARE THE LOCATIONS BRUCE IS PLAYING AT?"  Did the webmaster need to go this far out of his way to ruin the construction of this sentence?  How about the simple "Where is Bruce playing?" There's no need to bring locations into this and certainly no need to abuse a perfectly good "at" by forcing it to dangle at the end of the question.
But, does it matter?  Does your brand suffer for using incorrect or inappropriate language to communicate with your core audience?
While I was mildly perturbed about the situation, I decided to reach out to a true grammar authority – Jennifer Goff, formerly "Grammar Police" at Brains on Fire – and ask her if she thinks good grammar matters.  In fitting style, she put it better than I ever could:
How you say something can be as powerful as what you say. Good grammar/spelling/language,

however you want to look at it, it's the lowest common denominator of communication. And when I come across a person or a company or a brand that hasn't taken that minimal time to just proofread, it makes me wonder what other details they'll miss in my relationship.
Bruce, your music sounds just as sweet.  I will still follow you all over tarnation.  But please, remind your communications team that they should be vituosos in their own right and live up to the high standard set by you and the Noisemakers.
***AMENDED*** Please see below for an awesome comment from the Bruce Hornsby webmaster.  What better quality is there for a brand than the willingness to listen to your customers and make changes?  Come to think of it, didn't Bruce write:
gonna be some changes, changes made
can't keep on doing what i've been doing these days
look in the mirror I see a clown's face
gotta take it off, gotta get myself straight