High End Hotels Reward with Experiences, not Clutter
High End Hotels Reward with Experiences, not Clutter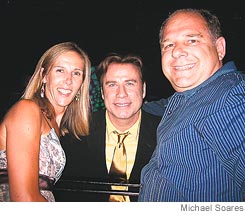 The Wall Street Journal recently featured a story about a California couple who traded in a whopping 124,000 Starwood Preferred points for the chance to accompany John Travolta to the premiere of Hairspray in New York. While not exactly my cup of tea, I can only imagine how much these folks are enjoying sharing stories and pictures from this experience (and how thrilled Starwood must be for the WSJ placement). Creating conversational capital for your customers is a high ROI investment.
At the WOMMA Summit in Las Vegas, Marc Priut, in speaking about his personal experiences spending his vacation following the band Sister Hazel, captured this phenomenon as "People don't really want 'things' anymore. They want to 'do.'" While all hotels provide a bed and shelter, hotels that inspire loyalty are the ones who provide experiences worth retelling. Sending top customers to a movie premiere definitely fits the "do" bill. At the beginning of the year, I wrote about Kimpton Hotels going above and beyond to solicit feedback and then shocking me by actually engaging in the specifics of my feedback. Kimpton never disappoints in providing me with a great experience in the moment and a great story to retell.
As with most business travelers, I don't want to be rewarded with a t-shirt or other marketing clutter, but if you leave a copy of the New Yorker on the coffee table, remember me by name, or bring a goldfish to my room, I will remember that and tell someone. I have purchased a night at Kimpton's Hotel Monaco in DC as a gift for my father's birthday on Thursday. It is my hope that while he is extremely hard to buy for in terms of "things", this might start a tradition of cutting the clutter in my own life and providing family and friends with the gift of remarkable experiences instead.