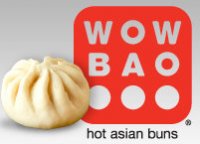 If you're wondering who owns the eyebrow-lift-inducing Facebook vanity "hotasianbuns", look no further than Chicago's own Wow Bao.  Wow Bao is a concept of Lettuce Entertain You, but it has a social media voice and plan of action all its own.   Geoff Alexander, Wow Bao's Managing Partner joined me on a panel at WOMMA's School of WOM and shared enough of those elements to make me want to learn more.  The personality and choices that Wow Bao has made qualify it as a Brand Worthy of a Weekend (BWOW) – a brand for whom there is a passionate set of fans that would give up a weekend with their families to come "immerse" themselves in the brand – learn more, meet the people behind the brand, and want to have a hand in crafting the brand's future.  So what's Wow Bao's recipe for a talkable, weekend-worthy brand?
Product Offering w/ Story, Ritual, & Explanation – Chicago is a food town, but steamed Asian Buns aren't the most common offering by far.  The product itself provides the opportunity for Word of Mouth to be exchanged – in location or on their website in the "the Way of the Bao" video.
Sauce-Up Your Brand Voice – @BaoMouth – Their brand voice on Twitter is the disembodied Bao Mouth.  The spicy Bao Mouth's location and identity remain a closely guarded trade secret (even when I pressed Mr. Alexander on stage).  It is interesting to note that this is usually counter to what we think of as a best practice in terms of building relationships through transparency, but here it truly adds to the Bao mystique.  What we do know is that he/she is not only listening for mentions of Wow Bao, but ready to comment on other seemingly irrelevant, but fun tweets.  My favorite today:
"I'm gonna walk in through the out door all day today RT @CarolBlymire: Prince turns 52. How will YOU be celebrating his birthday?"
Surprise & Delight with Innovation – Despite (or maybe because?) Wow Bao is in Chicago and only rocking a handful of locations, they are innovating their marketing at light speed.  They know that young, digital, early adopters are their bun eaters, so they have experimented by being one of the first restaurants in Chicago to offer Foursquare deals (in fall 09), they have an iPhone app, remote ordering and shipping anywhere in the US, Facebook weekly "secret word" deals, Foursquare Mayor rituals that walk the walk in store (this talkability has to manifest IRL after all), and mobile single-use barcoded coupons with Mocapay.  Even if 75% of these fail, they're worth remarking about and, while experimental, that probably justifies the ROI on its own.
What other brands are challenging their audiences by pushing their marketing bounds vs. being dragged into the future?  Or using the complexity of their product as a WOM advantage?