Wendy's & The Audacity of Personality (video)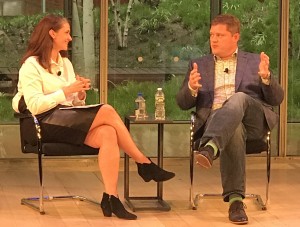 A few weeks ago, I had the chance to interview Wendy's head of social/digital, advertising and media, Brandon Rhoten live in NYC at the 2017 WOMMA Summit. Brandon was pithy and forthcoming, sharing the story behind the Wendy's brand personality and how their approach to audience engagement has led to runaway successes like fan/competitor "roasting" and "Nuggs for Carter". Check out the live counter of Carter's free nugget retweets vs. Ellen's Oscar selfie retweets – he overtook Ellen about a week after this interview transpired.
Perhaps most valuably, Brandon shares techniques for watching what is starting to grow organically and how a brand can gently encourage that tinder to catch fire. Brandon also shares the way management built their tolerance for their "charming challenger" personality being able to take risks and tolerate mistakes.
Check out the video here or the Forbes article on the interview here.