Tom's of Maine Walks the Walk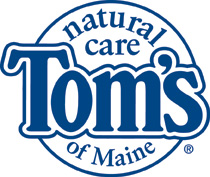 My sensitive (gums, that is) husband recently purchased a tube of Tom's of Maine natural toothpaste. What caught my eye was not the tube, but a stuffer inside the box that highlighted a particular employee and her volunteer with with animals. Her title was listed as "consumer dialogue specialist" and the volunteer work in question was done on Tom's company time (5% of paid employee time is spend volunteering and 10% of profits are reinvested in the community).
In the midst of the alarming number of "greenwashed" commercials that we were all forced to watch last week as every company and industry tried to get on the Earth Day bandwagon, I was inspired to read a little bit more about Tom's. As you might imagine, they don't just live their values for Earth Day – it was the core of the company's founding in 1970 and one of the reasons they are the top natural care brand (now an independent subsidiary of Colgate Palmolive). The factory, packaging and products themselves are all as green as you would expect a product with "of Maine" in the title to be.
Check out the website to read more about their success in building a values-based business and the Boston Globe's enlightening "Office Invasion" tour of the Tom's of Maine offices.