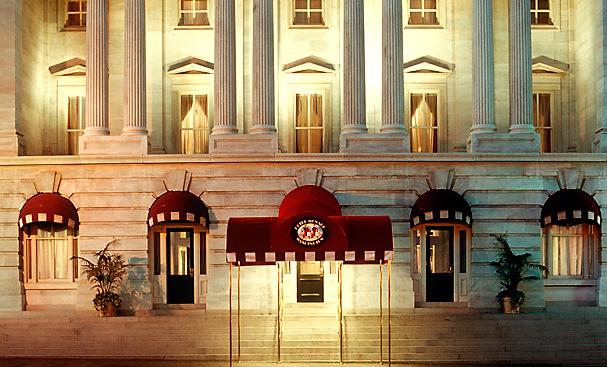 In my post last week about high end brands such as Kimpton Hotels rewarding customers with unique experiences instead of things, I mentioned my personal choice to give my father a night at Kimpton's Hotel Monaco property in DC for his birthday. Last night, I called him in his room and heard a new man. He was borderline giddy about how much fun they were having and, let me assure you, my parents are deep and wonderful, but not the giddy type.  His quote was "I don't think I've ever done anything to deserve being treated so well!"
With my credit card authorization fax to the hotel, I submitted a note explaining that it was my Dad's birthday, that I am a Kimpton enthusiast, and that I wanted my parents to understand why I am so passionate about their brand. They were clearly up to the challenge. My father informed me that they upgraded my parents to a 2-room corner King suite, had champagne for them at check in, delivered wine to the room, and generally treated them like VIPs at every turn despite the fact that they had never before spent a night at a Kimpton property. Now, the business side of me understands that that suite would have gone unoccupied anyway (all hotel rates were cut this week in DC because everyone's in Iowa!) and that it didn't necessarily cost them extra to do what they did. That being said, I know most hotels would not have taken the time or effort to create this personalized experience.
The actions of the staff of this hotel gives me another great story to tell about why I love Kimpton, and gave my parents not just a great experience, but a story I know they will tell over and over again. To please my parents is the greatest gift that this brand could give me, and I am deeply , deeply appreciative.