A Humorous Toast to Superfluous Integration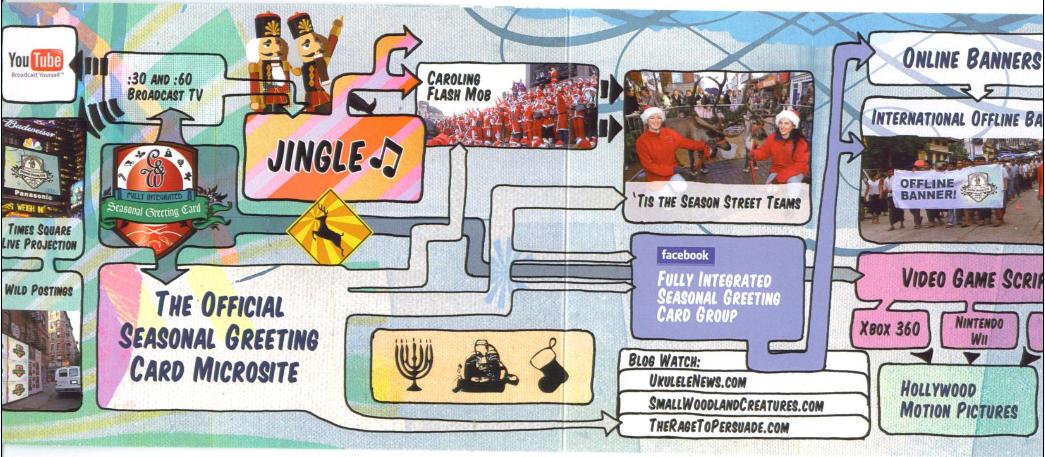 I am lucky enough to still be on the holiday mailing list for my long lost friends on the left coast – Cole & Weber United. This year, their greeting was so good that I feel moved to share. Instead of sending a boring paper card, they sent an integrated media map for spreading CWU holiday cheer through every buzzy vehicle of the year – including YouTube, flash mobs, gaming product placement, street teams and a Times Square execution. My favorite inclusion here is the new mandatory new marketing element – the Facebook strategy. That will make this piece carbon datable to 2007 in years to come.
I'm guessing that CWU, like most agencies, feel the pressure satisfying the request of clients who want to include every shiny new marketing vehicle in their programs – regardless of their appropriateness. While some may be just the ticket to reaching your audience, starting with a foregone conclusion inhibit client/agency partnership in putting together a strategy to reach customers where they are and engage them in a meaningful conversation or brand experience. In the interest of full disclosure, I once did this to CWU when I was their client and they were trying to indulge me by experimenting with a branded character MySpace integration. That sounds "so 2005" now, doesn't it? Let's hope 2008 is the year of meaningful customer engagement and less meaningless noise.