It's been 3 weeks since the best WOMMA conference in years.  As I've been reflecting, one of the big things I've been trying to nail down is exactly WHY I am so sure it is the best conference in years and what ideas I have taken with me.  Here's what's stuck:
Content Buoyancy – There were a lot of great takeaways from YouTube's Jeben Berg's talk (captured here on the All Things WOM blog), but this is the concept I am still pondering some weeks later.  Given that no piece of content will stay at the top of the YouTube pile forever, content buoyance describes your content's ability to rise back to the top of the heap.  Will it find new relevance what conditions change in the future?  Does the content have the ability to be evergreen and find new audiences over time?  The example used here was Nike's Ronaldinho Touch of Gold video from 2005 that has garnered 28million views over the years:

In this case, its about great content that doesn't grow stale.
Blowing Chunks – Blowing Chunks with Ted & John is not just a compelling name for a breakout, but an invitation to great conversations.  Fizz Corp's Ted Wright & John Moore from Brand Autopsy not only brought beer, they brought a fun WOM construct – the "Nausea Avoidance Checklist".  This invited participants to share their WOM mis-steps in a fun and safe environment.  It was like group therapy.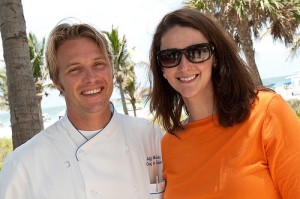 Location, Location, Location – This year's WOMMA was just a few miles away from the previous one, but world's away in terms of talkability.  The Ritz Carlton South Beach and its gorgeous beach setting was a breath of fresh air and WOMMA activities included lunch served by none other than Top Chef finalist Jeff McInnis.  Another divisive event element was the "naked" dessert spread on night 2.  Some people loved it, some hated it, but it gave everyone something to chew on which was, indeed, the point.
Positivity Reigns on Yelp – The conversational nugget that Goeff Donaker shared that Yelp reviews are 6:1 positive is something that I have already used in conversation multiple times.  People want to go out of the way to share POSITIVE experiences with others.  God bless altruism.
WOMMA not only knows how to throw a great conference, they also know how to host an online conversation.  If you have an opinion on where ethical boundaries should be drawn around "sponsored conversations", please make your voice heard on the Living Ethics Blog.