Playboy's Rogue Brand Ambassador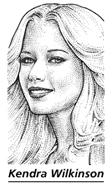 Yesterday's WSJ contained a front page story detailing the Olive Garden's unusual challenge of figuring out how to handle the repeated, vocal endorsements of Kendra Wilkinson. As a playmate, Hef girlfriend, star of E!'s Girls Next Door, and "friend" of 730k+ on MySpace, Ms. Wilkinson has a considerable platform for her declarations of Olive Garden love regardless of the feelings the family-friendly brand may have about her.
The core question posed in this situation is what do you do if you find yourself with a brand ambassador that in no way matches the brand "persona" imagined in the board room? What if they do not reflect the brand's core values? What if they aren't even using the product in the way you imagined or marketed it? As the article repeats, this is a complicated issue, but I think there are a few steps to walk through when any unexpected brand ambassador shows himself – whether or not they match your ideal target.
Stage 1: Acceptance. Per the solid advice of WOMMA board member Dave Balter, the first thing to do is accept that this is going on and it can't be stopped. The quicker you can pass through this stage, the quicker you can get to the good stuff.
Stage 2: Opprtunity Identification. Maybe this isn't your dream spokesperson, but is there an opportunity here? While there are sure to be pros and cons, why not explore? Does the appearance of a new ambassador mean that there are additional untapped market segments for the brand? Could you engage these new segments without compromising your values or offending your core audience?
Stage 3: Reimagine Success. Chances are that there is an engagement option somewhere between ignoring and embracing the rogue ambassador where the pros outweigh the cons for the brand. Success may not be what you envisioned at the company retreat, but the rogue brand ambassador could show you the promise of a different reality that might have higher revenues and more word of mouth surrounding it.
How would the pros and cons weigh out for inviting Kendra to design her own chicken parm-based entree? Offering to shut down the place to host her birthday? Or simply inviting her on a tour of the test kitchens to be taped for the show? Maybe some old fashioned "hospitaliano" could go a long way.
But the REAL question is, what am I doing with my life when Kendra Wilkinson has her own WSJ etching on page 1?
*cross posted from the Ogilvy PR 360 DI blog*