Hornsby Shares Clutter-Free Holiday Gift
When I say I am a Bruce Hornsby fan, I do not say so lightly. I have been a fan for more than half of my years on this earth and, because of the web bringing niche audiences together, there has never been a better time to be a fanatic. The live shows will make you a convert – there is never a setlist, always improvisation, and songs from the BH catalog get sewn into the Dead, classical, bluegrass, and folk – no 2 shows are the same. Like most jam band followers, Bruce fans are hungry for news of setlists and live recordings. I frequently visit the definitive fan site and, less frequently, check his official site.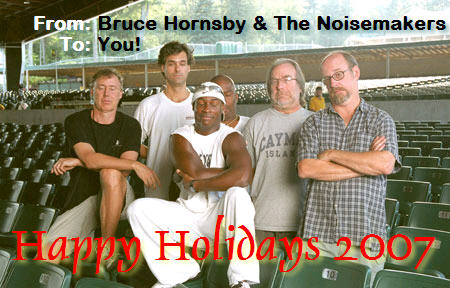 The holiday update of the official site is indeed worthwhile. Instead of just writing a holiday greeting to fans (in fact the photo in the greeting is laughably bad with lots of closed eyes), Bruce & his band gave fans what they really want – a collection of live tracks from the summer 2007 shows that are downloadable FOR FREE for a limited time. Bruce makes a few live shows available for purchase each year at Bruce Hornsby Live, but surprising diehards with free tracks recognizes that we're in it for the music and will keep us engaged in the long droughts between live experiences. My guess is that this will also get some folks thinking about buying even more.
If you haven't heard a Bruce track since "The Way It Is", download Disc 1, Part 2 and check out "Gonna Be Some Changes Made", or Disc 2, Part 1's "Fortunate Son -> Comfortably Numb".