About Virginia Miracle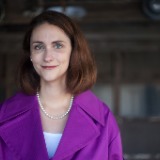 I am a passionate Word of Mouth Marketing practitioner. The juxtaposition of my experiences in WOMM vs. my time in the trenches of one of the country's most voluminous direct marketers has given me firsthand understanding of the power of customer conversation and the relative inefficiency of shout and interruption marketing. I enjoy blogging and speaking on topics surrounding inspiring Word of Mouth and scaling its greatest facilitator – social media – within large enterprises.
In 2012, I began a new adventure with Austin-based Spredfast – an SMMS designed to help companies truly scale their social presences.  I am building out the services around the SaaS platform to help our customers truly realize the value of social business.
Prior to Spredfast, I was lucky enough to spend 4 years with the amazing team at Ogilvy PR's 360° Digital Influence group.  After my first 2 years at Ogilvy Washington, in early 2010, I became the Head of Digital Strategy for North America.  As part of that new job assignment, I relocated to the center of the country (universe?) – Austin, TX from whence I regularly visited clients and Ogilvy offices and continued to spread the good word.  Prior to Ogilvy, I was Director of Word of Mouth Marketing at Brains on Fire, a national Identity and Word of Mouth marketing company. There, I championed the client services group and intimately shepherded the Fiskateers crafting ambassador program through its first 18 months of existence. Brains on Fire is a supremely creative and intuitive company. If you ever are in search of examples for how to make every customer touchpoint express your true personality, try calling their front desk.
I was first turned on to the power of conversational marketing through a role I was asked to tackle during my 4 years at Dell, Inc. in Round Rock, Texas. I began my time there in Corporate Strategy and rolled through various roles in consumer marketing including word of mouth marketing manager and leading the company's online advertising to consumers and small businesses. Before that, I was a proud member of the late-90s phenomenon Trilogy Software and earned a BA in English language and literature from Princeton.
In other selected trivia, I was a member of the first elected Board of Directors of the Word of Mouth Marketing Association and, after a stint away, rejoined the Board at the beginning of 2011.  Another fun fact is that my role at Dell is believed to have been the first role with "WOMM" in the title at a Fortune 50 company.  I was also named to PR Week's 40 Under 40 list on December 2008, but it sparked a colleague to make the comment "I didn't know you were under 40″ so I'm always selective about how that particular item gets mentioned.